Call or Email The Crispin Team Today! 417-335-3109 crispinteam@gmail.com
;
Dear Shannon, I apologize that you have not heard from me since you sold my home. Shannon, I just would like to share my experience with you and your team. When I started looking for homes in the Branson, Missouri, three years prior to my purchase in 2014, I interacted with several realtors and brokers searching for a home to buy. It was the worst experience ever, as I'm a senior citizen and have a lot of life experiences. The lies and deception were so bad I questioned moving to Branson, Mo. As you know when your team contacted me about my listing on Zillow For Sale By Owner, I was very skeptical and hesitant to talk with a Realtor, much less list my Home with a Realtor. I felt that I could better represent my Home and sale it. But when you and your team associate met with me at my home I felt confident in you and your teammates to represent me and my home, and be fair with the pricing. We began working together and SOLD my home in 3 months after listing it. Also, I got the money I needed in order to sell. Excellent: Communications, Professional. If you missed my phone call, you would call me back in a timely manner, No lies or deception. My experience with you and your team gave me Faith again in people and real estate agents . I HIGHLY RECOMMEND Shannon Drockelman Cody with Keller Williams. God's Blessings and thank you so much! Sincerely, Randy C Feaster — Randy Feaster
by Randy Feaster
The Crispin Team helped me to sell my home at a time the real estate market was not its best in this area. They kept me updated on the showings and the prospective buyer's comments. If I need the service of a "top-notch" realtor in the future I won't hesitate to call Keller-Williams and Shannon Drockelman Cody. — Mary and Leonard Gass
by Mary Gass
Last year, Shannon Cody helped me sell my 14th home. Based on so much experience working with realtors in Virginia, Florida, California, Louisiana, and yes, Okinawa, Shannon was exactly what a seller should want and expect from a realtor. She was very professional, had a lot of experience, knew the market, and knew how to position me for a quick sell. I feel most comfortable in recommending her without qualification. Semper Fi, Dick Hrebik — Dick Hrebik
by Dick Hrebik
Shannon Cody was our agent when we were selling our condo and buying another. Besides being the best communicator ever, she was very quick to respond to our needs, was unbiased, a fair negotiator and a wonderful person to guide us through our sale and purchase! NOT to mention, she was so very personable and someone I'm sure we will be friends with forever! I would highly recommend that if there is a sale or purchase in the future, I would highly recommend Shannon! The Crispin Team as a whole is quite professional, quick to reply to needs, and kept us calm when there was a storm!!! The team is certainly a team, and one hand knows what the other is doing. I highly recommend The Crispin Team to handle real estate needs! — Susan Tonies
by Susan Tones
Since I live in Alabama and my condo is in Branson, I was very grateful to have had Shannon Drockelman Cody as my agent. She was very helpful in many ways to me. Shannon, at one time, stayed on the phone to help me with some documents which I did not know how to fill out. Shannon was so patient with me which I appreciated. Shannon also kept me informed as to the progress on the sale of my condo. I would recommend her to any person wanting to sell their property.
by Frieda Harrison
Sold a Condo home in 2016 for approximately $100K in Branson, MO. Great experience selling our house in Branson. This was a unique sale as we owned half of a duplex, and we are remote from Branson. Shannon Drockelman Cody and the team at Carolyn Crispin - Keller Williams Tri-Lakes Realty made the process simple. The online marketing used got us great market penetration and the weekly email reports kept us informed. Shannon's expertise was instrumental in selling our home quickly. The entire team kept us updated frequently, and we didn't have to worry about a thing! rhhanson63, 10/05/2016
by Ron Hansen
I contacted the Crispin agency to sell my deceased parents' home after the home had been on the market for one year. I was impressed with the marketing plan that was offered, I received timely reports on what was going on in the real estate market as well as homes near the one we had listed. And, less than six months later, we have closed.
by Billie Jones
Shannon Cody was our agent when we were selling our condo and buying another. Besides being the best communicator ever, she was very quick to respond to our needs, was unbiased, a fair negotiator and a wonderful person to guide us through our sale and purchase! NOT to mention, she was so very personable and someone I'm sure we will be friends with forever! I would highly recommend that if there is a sale or purchase in the future, I would highly recommend Shannon! The Crispin Team as a whole is quite professional, quick to reply to needs, and kept us calm when there was a storm!!! The team is certainly a team, and one hand knows what the other is doing. I highly recommend The Crispin Team to handle real estate needs!
by Lane Allen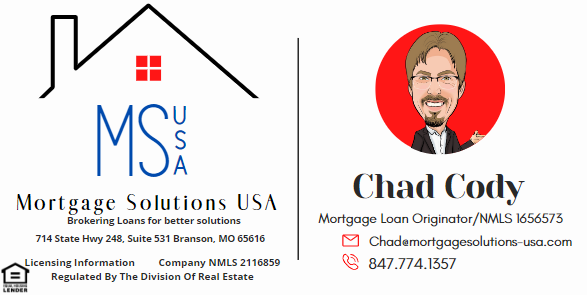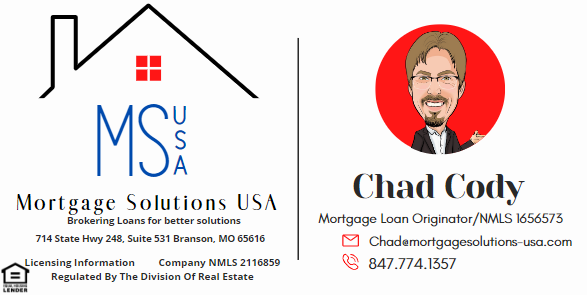 Chad Cody
Mortgage Loan Originator
NMLS# 1656573
Direct: 8477741357
Cell: 8477741357
714 State Hwy 248
Branson MO 65616
Get ready to get approved!


It's easy to get prepared for your application. Depending on your unique financial situation, there are several documents you might need when applying for a home loan. It's a good idea to start prepping your financial documents before you start to ensure a smooth application process. Here is a list of the most common documents to have on hand before you start:


• *Copy of front of valid photo ID
• *Two most recent years W2s
• *Two most recent years tax returns (personal & business if applicable)
• *Two most recent paystubs
• *Two most recent months bank statements



;